The group for micro-serfs who'd rather be paddling!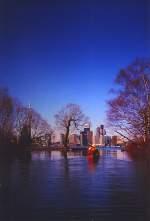 this site is not active
It is really just an archive of trip reports at this point, but it seemed worth resurrecting just for that. You find that lots of things are broken. This virtual organization existed to serve its members, a group of friends in the vicinity of Toronto, Ontario, Canada who liked to paddle together. We didn't have any meetings. We didn't have any rules. We didn't have any officers or structure. We just liked each other's company and we liked to paddle canoes.

Feel free to read our trip logs.

SYOTW
---
Canoe Quotes
A Canadian Song

Come, launch the light canoe;
The breeze is fresh and strong;
The summer skies are blue,
And 'tis joy to float along;
Away o'er the waters,
The bright glancing waters,
The many-voiced waters,
As they dance in light and song.

When the great Creator spoke,
On the long unmeasured night
The living day - spring broke,
And the waters own'd His might;
The voice of many waters,
Of glad, rejoicing waters,
Of living, leaping waters,
First hail'd the dawn of light.

Where foaming billows glide
To earth's remotest bound;
The rushing ocean tide
Rolls on the solemn sound;
God's voice is in the waters;
The deep, mysterious waters,
The sleepless, dashing waters,
Still breathe its tones around.
— Susanna Moodie, Roughing It In the Bush, 1852